It's no secret that my long hair makes my morning routine a drag.  As much as my Infiniti Pro Travel Hairdryer cuts down on my hair drying time, I still dread dedicating ten minutes of my morning to simply drying my long hair.  And THEN I have to style it.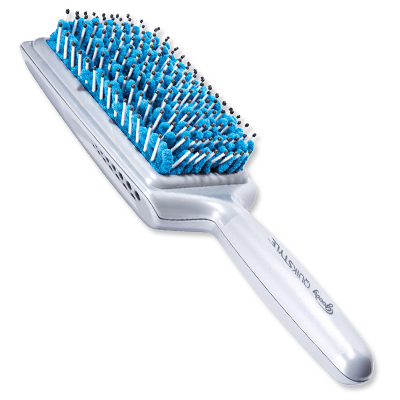 Being able to eliminate a few minutes of dry time in the morning is priceless to me.  And I was finally able to do so with the Goody QuikStyle Paddle Brush.  Not only does this brush tackle the tangled state that my hair is normally in after a shower, but it has super absorbent microfiber pieces that remove 30% of the water from your hair!  I simply use this brush immediately after getting out of the shower, especially on the ends of my strands where water tends to gather.  My hair is noticeably less waterlogged afterwards and I've been able to eliminate 3-4 minutes of drying time just by using this brush in lieu of my regular styling brush.
You can also continue to use this brush for styling, but I prefer to let the Goody QuikStyle Paddle Brush dry while I'm blowdrying and styling my hair with my other brush.  As for how the brush dries – completely within about an hour.  There are vents along the side of the brush so each microfiber piece can dry without getting moldy or musty.
You can snag your own Goody QuikStyle Paddle Brush at Target for a mere $11.29!
Disclaimer: I was provided with a product sample to review.  As always, all opinions are my own.