A couple of weeks ago, I was in line at Ulta when I heard two sales associates discussing the new They're Real mascara by Benefit.  As a BadGal Lash user who was not particularly satisfied with her mascara, I was skeptical.
But then I heard them comparing the brushes and the different properties, and I knew I had to give it a try.
They're Real has a plastic brush with large, plastic bristles while BadGal has a traditional, oversized brush head.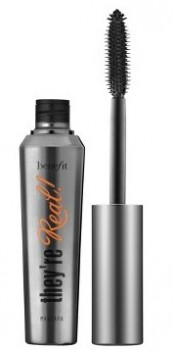 The mascara goes on extremely smoothly with hardly any clumping.  I think the primary reason for this is the fact that it's not a volumizing mascara – it is much more lengthening and a bit curling.
In the pictures below, I am wearing the new They're Real on my left eye and BadGal Lash on the right eye.
In practice, I think this mascara lengthened much better than other mascaras I've used.
In removing it, I've found that They're Real requires makeup remover.  I use it daily but I know some women who remove mascara with just soap and water – but there is no way that would cut it with this mascara.  For whatever reason, it's tough to get off.
The only improvement I'd make to this mascara is to make it a bit more volumizing; however, I've worked around this problem by applying two coats with a minute of dry time in between.
Has anybody else tried They're Real?  Did it live up to the hype?