I won't lie.  There's been times we've been delayed five minutes getting out the door JUST because we're hunting down a travel pack of wipes as opposed to the refill wipes.  Oh, you weren't aware there was a difference?  Become a parent and you learn that one does not equal the other.  The Huggies Clutch 'n' Clean has ended this hunt of all hunts though.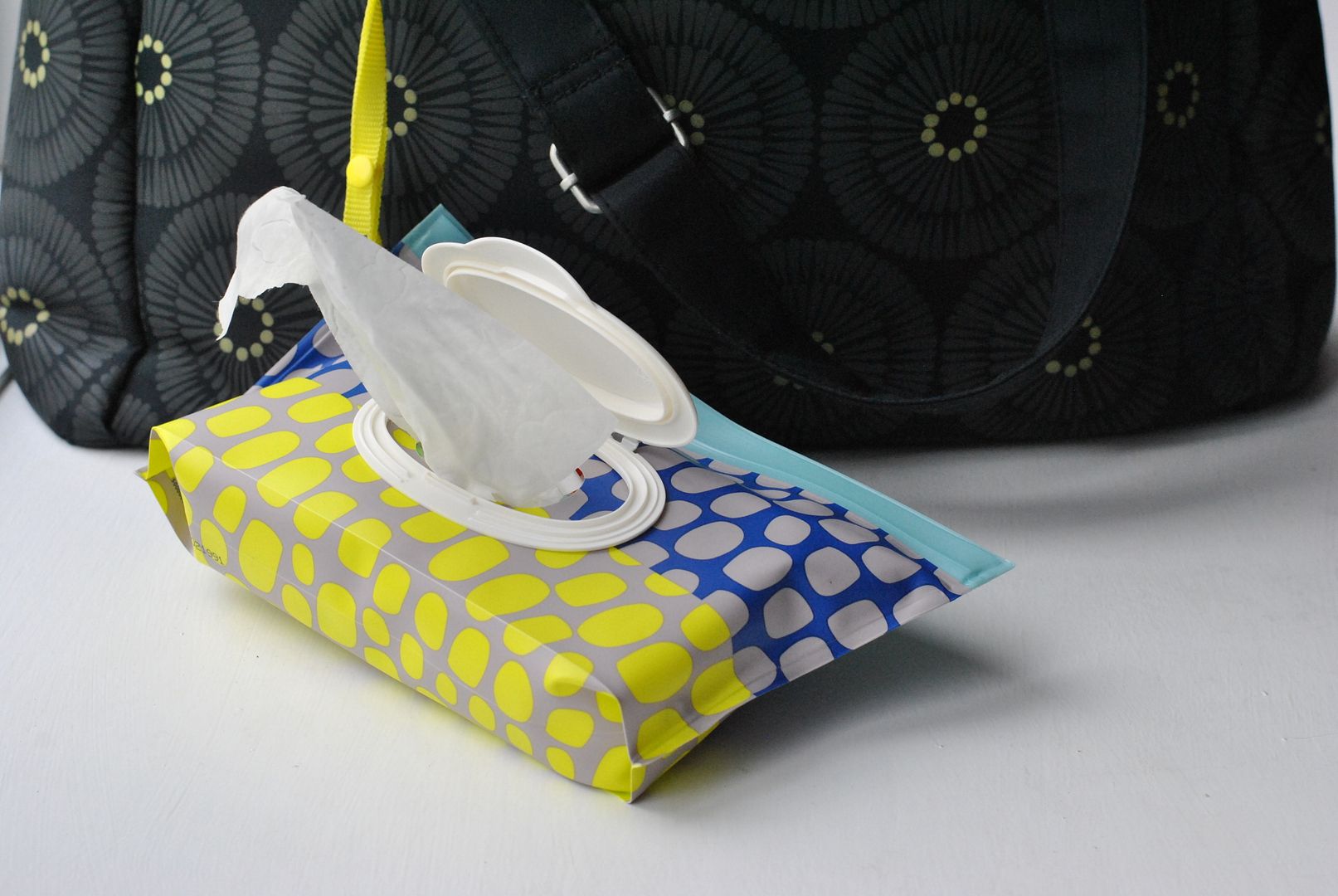 A REFILLABLE travel wipe pouch.  That pretty much works the same as a Ziploc bag and comes in some pretty cute patterns that don't scream 'I'm about to wipe my baby's bum!'  Mod, colorful and a little less 'baby looking' than your traditional travel packs.
Big pluses from me: Super easy to refill – just pop in the wipes, seal and you're ready to go.  The actual bag portion is made of some heavy duty plastic, so no 'crinkle' noises here!  Which is especially helpful when you're down on the floor executing a quick change during a quiet ceremony.
Another favorite feature of mine has to be the loop you can use to attach to your bag handle (shown here on our more manly Carter's diaper bag.  My husband doesn't like carrying around the pink Kate Spade for some reason…).  Which may not seem like a huge deal until you find yourself simply tugging on the string in a quick diaper change instead of digging for the wipes pack at the bottom of the bag.
Works great for everyone – since I'm pretty sure I will be carrying some form of 'wipe' in my purse until my son goes to college. What is it about boys and dirt?
A simple upgrade, that I think is worth the $3.99 investment 🙂
Available at grocery stores and mass retailers everywhere.
disclosure: i was provided with product to facilitate this post. as always, all opinions are my own.